In 1845 the first boat of East Indian indentured labourers arrived on our shores bringing with it a people and a culture steeped in mystical legend, festivals and symbolism, who settled primarily in the central region of Trinidad.
Swathed in colour - the royal purples, floral pinks and river greens - and texture, like the rich images of Phagwa, the Hindu spring festival, and the gentility of a young girl lighting the deyas for Divali celebrations, our Central room glitters with the opulence of Indian palaces and envelops you with the vibrant colours of bazaars and Asian marketplaces.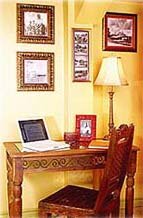 Framed in ornate gold, the vibrant images in your room breathe with life, and if you listen closely you will hear the crackling of burning sugar cane.
Bare feet dancing on the cocoa, the rhythmic click clock of a donkeys hooves burdened by the weight of a wooden cart laden with coconuts, the din of market day and the slow ssssshhhh of a wet hand moulding raw clay with the promise of yet another sensual masterpiece.