Room to Grow
---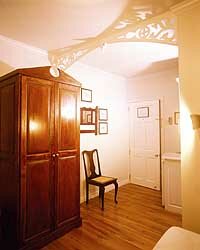 The desire was to create a hotel that caters not just to the material needs of hotel guests but to generate an overall feeling of general wellbeing and superlative guest comfort.
Our Inn respects the design of space and it's overall effect on inner harmony and serenity. The appointment of furnishings and use of space has been steered by internationally famous Feng Shui expert, Master Lau. There are two crystalline fountains in the hotel.
The amethyst fountain at the front desk serves to inspire positivity, higher thought and vision and the Rose Quartz fountain in the restaurant engenders love, cleansing and healing energy.

There are spaces designed for relaxation throughout the hotel. The sound of the cascading waterfall in the Garden Patio will soothe the most jangled nerves.
The Reading Nook offers the opportunity for escape in Caribbean stories and history, and you may indulge your desire to renew the mind and body with an aromatherapy massage in the Massage Room.