CLR James, the renowned author, social commentator and activist, tells us, in Beyond a Boundary, his infamous cricket novel, that as a child he would stand on a chair at his bedroom window to watch the cricket games being played in the field opposite his home. On one particular day he saw his favourite batsman Arthur Jones caught out and commented that, "…something out of the ordinary had happened to us who were watching. We had been lifted to the heights and cast down into the depths in much less than the fraction of a second."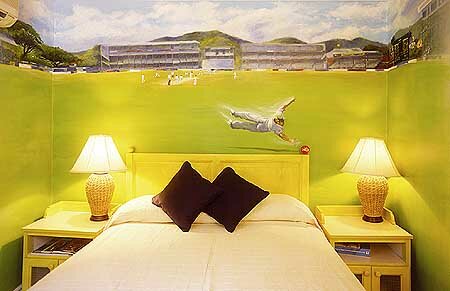 Cricket is the lifeblood of the West Indies. Introduced to the islands under British colonialism, West Indians excelled at the sport and dominated the international test cricket arena for three decades. Our cricket supremacy up to the 1990's was the single greatest source of West Indian pride and many an international spectator would tell you that there is no other cricketing nation that watches cricket the way we do. Avid fans pack The Oval in their thousands, with their coolers, their pots of 'pelau' - a local dish, their newspapers and conch shells to witness our boys engage the opposing team with the same passion with which we watch them. Ahh…cricket, glorious cricket.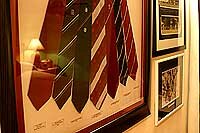 In Trinidad and Tobago, the mecca for local, regional and international cricket, is The Queen's Park Oval. In it's 150 years of existence The Oval has been the site of jubilation and heartbreak for West Indians the world over. It is the cricketing home of our local hero, Brian Charles Lara. In 1994, Lara broke Gary Sobers' 36 year old world record of the most runs scored in a test match on the Antigua Recreation Ground with an innings of 365 runs. In 2004, Australia's Matthew Hayden broke Lara's record and months later, Lara astonishingly reclaimed the record with a score of 400 not out. In doing so, he became the first man to reclaim the world Test batting record and remains the only man in the history of test cricket to score a quadruple century.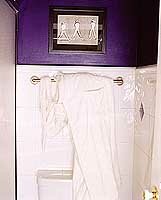 This room is rooted in the passion of West Indies cricket. The mural behind your bed depicts a typical test match at The Oval with Lara at the crease, having sent the ball flashing to the boundary, and South African Jonty Rhodes diving in attempt to catch.
We hope this passion resonates with you and when you return it will be with a request for a ticket to the test match on at The Oval. Trust us, it will be an experience you will not soon forget.